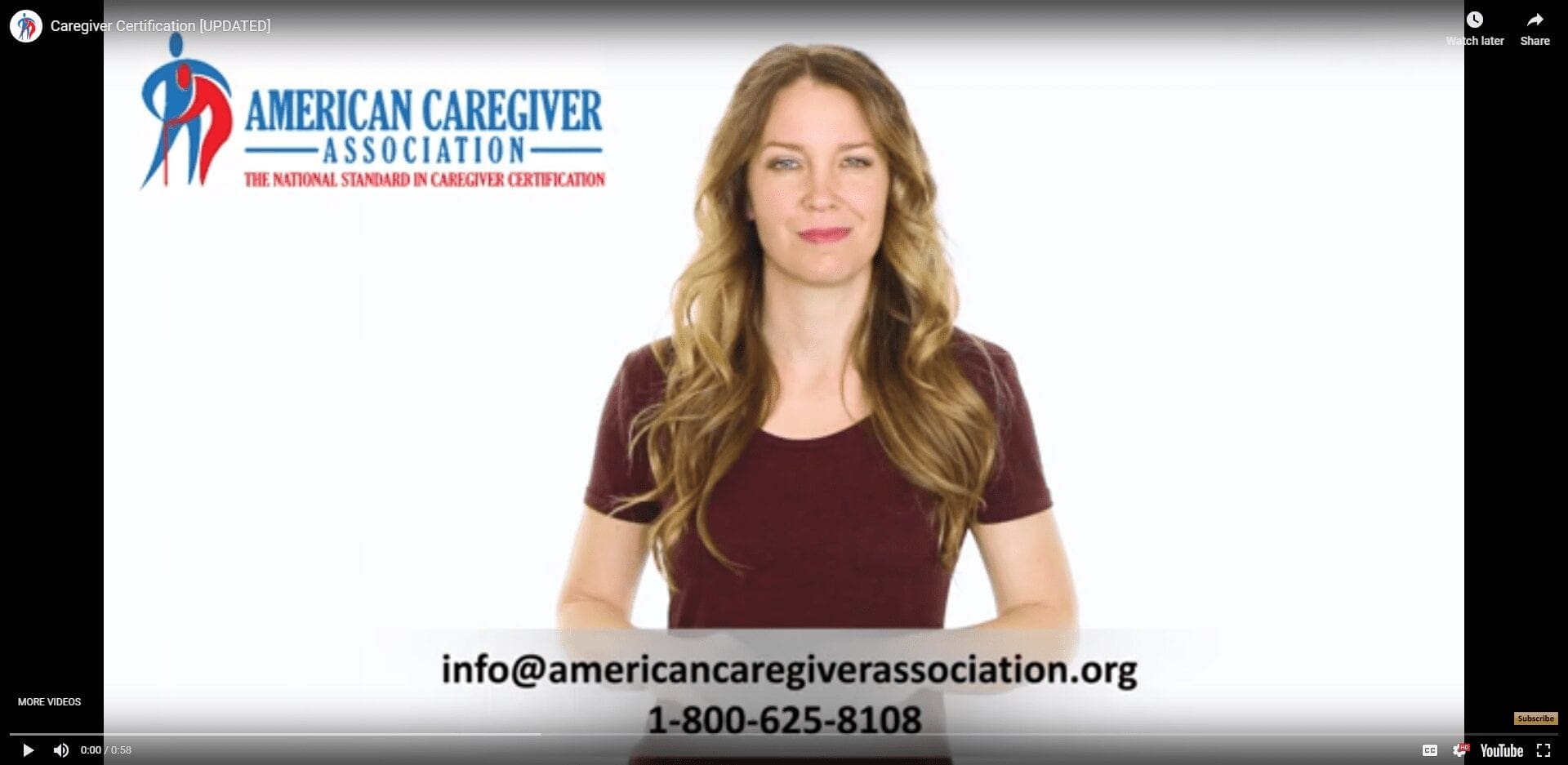 American Caregiver Association: The National Certifying
Organization for Caregivers
The American Caregiver Association (ACA) has been around since 1985. We are the most recognizable name in the caregiver industry and we are the Official National Certifying and Accrediting body for caregiver and assisted living manager (ALM) certification in the United States. The ACA is proud to be the only organization to offer a self-study National Caregiver Certification Course (NCCC), National Assisted Living Manager Caregiver Certification (NALMCC), along with a host of other caregiver certification courses.
​Acquiring caregiver accreditation places you above others competing for employment in the caregiver field because your caregiver certification is through the ACA, the most established and respected caregiver training and certification organization in the U.S. In the caregiver profession it is well known that if you are not nationally certified with the American Caregiver Association then you are not considered a certified caregiver. This is the weight that our caregiver certification carries across the United States.
National Caregiver Certification
More critically, national caregiver certification is the expectation in the industry. The same is true for assisted living manager certification. Therefore, we strongly urge you to keep this in mind as you look to advance your career in the health care field, as a personal care aide, caregiver or assisted living manager more specifically. Having our caregiver certification simply puts you ahead of the game now, and in the long term.
On a more practical level our caregiver license provides you with the opportunity to fine tune your knowledge and acquire new skills and techniques with minimal out of pocket cost at $99.00. This, as opposed to going to a more traditional caregiver training school or course which can cost thousands of dollars, extra expense such as gas, and time that you may not have. If you are interested in becoming a nationally certified caregiver or nationally certified assisted living manager and being entered into the National Caregiver Registry (NCR), click on the add to cart button below to purchase your caregiver course.
We offer a variety of discounted caregiver certification bundles, including the NCCC and NALMCC package for only $179.00 (regularly $198.00). The bundle package includes both the National Caregiver Certification Course and the National Assisted Living Manager Certification Course (NALMCC).
Acquiring Caregiver Certification To Take Care of a Family Member
If you are looking to obtain a caregiver license to take care of a family member then we recommend our National Caregiver Certification Course, or NCCC. Cost is $99 for the NCCC. You can add the NCCC or any caregiver bundle on this page or in our online store online store. Questions about caregiver certification? Email us at info@americancaregiverassociation.org.
How the Caregiver Certification Process Works
To take a look at all of our courses you can go directly to our Online Store and order the course or bundle package that you want and checkout. After that, simply wait for an email from us with your course materials and other instructions. The entire caregiver certification process is conducted via email. And, all caregiver certification courses are self-study and completed on your time frame, making the process accommodating and flexible. The best part is that you can complete your caregiver certification course in 2 days. Again, please email us if you have additional questions concerning caregiver accreditation. To view all of our caregiver related content please visit our YouTube channel here.
What Is Covered In The National Caregiver Certification Course?
The National Caregiver Certification Course (NCCC) is intended to provide you with the most common responsibilities and duties that you will be dealing with as a caregiver.  
The fundamental idea behind the training course is not so much to cover 'every' aspect of caregiving. Rather, it is our intent to provide you with the most relevant and useful information that you should know before you begin a career as a caregiver. This is a terrific starter course for anyone wanting to break into the caregiver field.
Topics covered in the caregiver certification course include:
Communicating Effectively with Residents

Preventing Abuse, Neglect and Exploitation

Controlling the Spread of Disease and Infection

Record Keeping and Documentation

Nutrition, Hydration and Food Services

Assisting in the Self-Administration of Medications

Social, Recreational and Rehabilitative Activities

Fire, Safety and Emergency Procedures
Assisting Residents with Activities of Daily Living (ADLs)

Oral Hygiene, Grooming & Bathing

Residents with Dementia & Alzheimer's Disease

Communicating with Residents Unable to Direct Self-Care

Providing Services and Life Skills

Managing Difficult Behavior for Residents Unable to Direct Self-Care

Developing & Providing Social, Recreational & Rehabilitative

Activities for Residents Unable to Direct Self-Care

Risk Management, Fall Prevention and Ambulation​
You Help By Taking Our Caregiver Certification Courses
When you purchase the caregiver certification course or assisted living manager certification course your tuition is used by the ACA to advance the causes of our seniors and aging adults with the intent of finding solutions to the challenges and problems they face on a daily basis, all the while taking a compassionate and caring approach to our work. So, you not only advance your own career by taking the training course, but you also help the very people that you serve and care for.​
What is Covered in The National Assisted Living Manager Certification Course (NALMCC)?
The NALMCC course is designed for those wanting to move into a position of increased responsibility. The course provides you with the knowledge and information that you need to handle the day to day operations of an assisted living facility. Likewise, the NALMCC course predisposes you to many of the problems and issues that assisted living manager's (ALM) face. In addition, the NALMCC  certification opens the door to increased opportunity in the caregiver industry. The bottom line for you is this. National assisted living manager certification is the expectation, not the exception.
Topics covered in the NALMCC course include:
Developing & Implementing Policies & Procedure

Managing Caregiver Personnel 

General Business Practices

Basic Requirements for Caregivers
How does the National Caregiver Certification Course (NCCC) Work? How does The National Assisted Living Manager Certification Course (NALMCC) Work?
Simply add the course you need to your shopping cart and go through the payment process. Upon receipt of your payment you will receive a confirmation email from us. Within 24 hours you will receive your course manual via email (in PDF format), along with your student identification number and other basic instructions. After you receive your course you can take as long as you need to prepare for the exam. All exams are open book. 
There are no time constraints for finishing a course or the exam. This puts you in control of your learning. When you feel that you are ready to take the caregiver or assisted living manager exam simply email us through our Contact Us page on our website indicating that you are ready for the test.
Once we confirm the receipt of your email we will then send you the exam via email within 24 hours. After you have completed the exam you need to email the exam back to us for grading. Upon successful completion of the exam you will receive your certificate electronically within 3-5 business days. If you have any questions please contact us at the email address below. Good luck, and thank you from all of us at the ACA.​
Super Certification Bundle
Get All Three Courses,   PLUS Membership
What caregivers say about our courses?
Fredia Hall
of Alexandria, Virginia
"I found the course interesting and informative."
Roberta Gray
(Experienced Caregiver) of Orford, New Hampshire
"It was a good refresher course for myself . It refreshed my memory of useful information."
Lori Madsen
of Bellingham Washington
"I liked the course and found it to be very instructive and practical. And I appreciate the opportunity to become certified. Thank you so much for making this online course available and affordable."