From Restless Legs to Dancing Feet
From: Mayo Clinic News Network
Need Caregiver Certification? Get that through the American Caregiver Association right here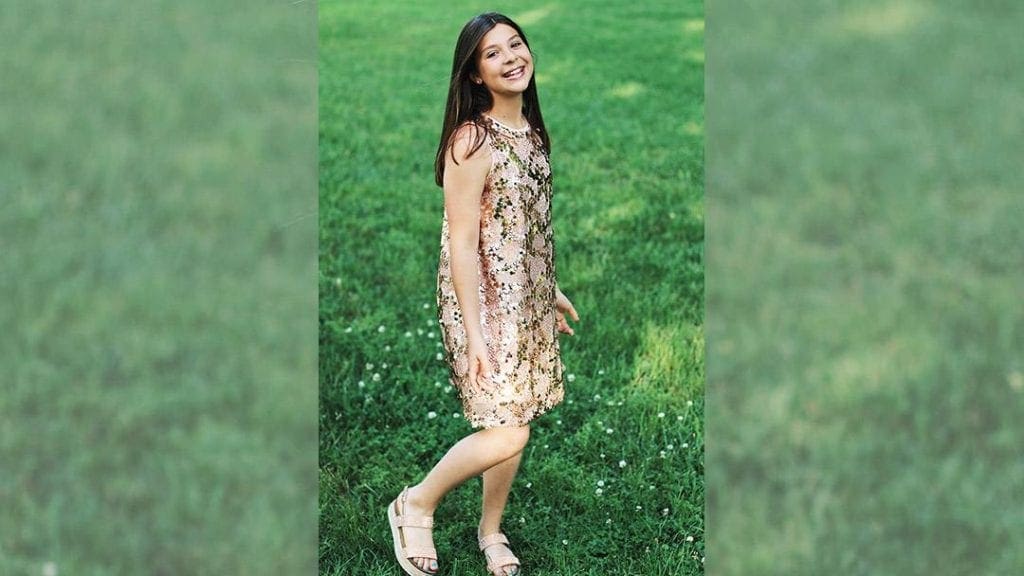 For the first four years of her life, Savannah Brock didn't sleep more than a few hours at a time. Though desperately tired, the child couldn't fall or stay asleep due to an unrelenting urge to move her legs. While Savannah's parents knew something was wrong, medical tests didn't reveal the cause. Then they met a Mayo Clinic pediatric sleep specialist who listened to the family's story and pinpointed the problem.
---
Savannah
Brock loves to dance. The 11-year-old is on a dance team and performs in jazz, hip-hop
and lyrical dance competitions. For Savannah's mother, Kelly, watching her
child gracefully move her legs and arms in choreographed, rhythmic expression
is an experience that stands in stark contrast to the girl's difficult early years.
From
the time she was born until she was 4, Savannah's legs twitched and jerked incessantly
any time she tried to rest. The movements made it hard for her to sleep more
than a few hours at a time. "In order for her to get quality rest, we would
sacrifice our own sleep and massage her legs for hours during the night,"
Kelly says. "It got to the point where we were all so sleep-deprived. I started
hallucinating."
Kelly
and her husband, Joey, who live in Madison, Mississippi, received medical
guidance from local doctors, but the answers they received never added up to a
solution. They consistently were told that Savannah had "growing
pains," and she would outgrow the symptoms. They sought help from a local neurologist
who recommended the toddler receive mood-altering medication to get her to
sleep. He also suggested a sleep study.
Kelly
says the mood-altering medication was not the solution for Savannah, and the
sleep study yielded few answers. But the exam put her parents in contact with a
physician who offered to help, and he provided them his personal cellphone
number. After a particularly trying Saturday witnessing her exhausted toddler
unable to be still during nap time, Kelly called the doctor.
"I
was at a level of complete distress watching my little girl suffer as she
fought for sleep, and I needed help," Kelly says. "Nothing was
working, and none of the doctors knew what to do, so I called him crying."
The doctor told Kelly he had found a specialist at Mayo Clinic who might be able to help: Suresh Kotagal, M.D., in the Department of Neurology.
Savannah, Kelly and Kelly's mother traveled to Mayo Clinic in Rochester to meet Dr. Kotagal in the Mayo Clinic Center for Sleep Medicine. It didn't take him long to identify the problem and come up with a solution. Following a physical exam and a blood test, Dr. Kotagal told Kelly that Savannah had restless leg syndrome, and what she needed to jump-start treatment for the condition was an iron supplement. A short time later, Savannah received an IV iron infusion.
"As
soon as they performed that iron infusion, Savannah slept through the night for
the first time in her entire life, and she was symptom-free for weeks afterward,"
Kelly says. "It was like a miracle from heaven."
Disruptive, underdiagnosed condition
It
is not unusual for children with restless leg syndrome to go untreated for
years, says Dr. Kotagal. "Restless leg syndrome is underrecognized and
underdiagnosed in children. It's often dismissed as a sort of muscle or tendon
issue, or that the discomfort in the legs is from dermatitis."
According
to a large study involving 10,000 families in the United States and United
Kingdom, the prevalence of restless leg in children is about 2%. One reason the
condition is underdiagnosed is that very young children lack vocabulary to explain
their symptoms. "Children are not able to express in words the discomfort
that they're feeling in their bodies," Dr. Kotagal says. "They may
just appear irritable or cry excessively for no obvious reason, so it's a
little harder to diagnose."
"At one point, she said she had fire ants in her bones. It was utterly heartbreaking."

Kelly Brock
When
Savannah started forming words and sentences, she described her legs as having
bugs in them or birds flapping their wings. "At one point, she said she
had fire ants in her bones," Kelly recalls. "It was utterly
heartbreaking."
Although
the condition affects the limbs, restless leg syndrome is a neurological
disorder triggered by iron deficiency in certain parts of the brain. "The
discomfort that develops in the arms, back and legs is related to brain malfunction,"
Dr. Kotagal says. "It is not a musculoskeletal condition. The discomfort
that occurs is due to the malfunctioning of brain sensory systems."
Restless
leg syndrome is not life-threatening, but it can severely impede childhood
development. "When children don't sleep well at night, they have a lot of
daytime behavior difficulties," Dr. Kotagal says. "For instance, they
may be inattentive in school, get diagnosed as having attention deficit hyperactivity
disorder, have mood swings or oppositional behavior."
The
condition caused Savannah to be extremely tired and often weepy at bedtime. "She
was a wonderful, adorable, loving child, but you could tell the lack of sleep
was affecting her, as it would anyone," Kelly says. "If Dr. Kotagal hadn't
intervened when he did, it could have affected her behaviorally."
Simple, effective treatment
Treating patients with restless leg syndrome involves providing enough iron supplementation to cross the blood-brain barrier to correct the neurodeficiency. Iron is given in the form of an oral pill, liquid solution or IV infusion. For Savannah, who had a severe case of the illness, IV infusion therapy was required to provide an adequate amount of iron, while avoiding gastrointestinal side effects that are typically seen with oral iron treatment. Dr. Kotagal also prescribed Savannah the nerve medication gabapentin.
Not
only did Savannah's first infusion allow her to sleep for sustained periods, but
as a result of the treatment, Savannah became less emotional, more focused and
better at managing relationships, Kelly says.
Following
the iron infusion at Mayo Clinic, the family returned to Mississippi. At home,
under the guidance of her local pediatrician — who'd been given literature from
Dr. Kotagal on the condition and how to manage it — Savannah began taking a
liquid iron supplement, as well as daily gabapentin. Every six weeks, she
received a blood test. The results were sent to Dr. Kotagal who closely monitored
her iron levels to ensure that she didn't develop an iron excess.
"Dr. Kotagal took us seriously and gave us hope for our precious girl."

Kelly Brock
Two
years ago, when Savannah was 9, her medical team began decreasing the iron
supplements. "Extremely slowly, with baited breath, we weaned her off,"
Kelly says. "And amazingly, she was OK. As of today, she's on no medicine
at all, and she's doing great. I guess you could say that we're in a remission
period for as long as it's going to last. But the fact is, even if it comes
back, we know how to treat it."
Although
Savannah doesn't require follow-up visits with Dr. Kotagal, the support he
provided continues to give the family comfort and assurance. "Dr. Kotagal
recognized this was a severe case of RLS that required immediate treatment,"
Kelly says. "And he had a way out. It was like divine intervention,
meeting him. Dr. Kotagal took us seriously and gave us hope for our precious
girl. The fact that he knew exactly how to handle her condition, and his
treatment plan worked, I was like: 'My gosh. He's our hero. He's our family's
hero.'"
But
according to Dr. Kotagal, Kelly had just as much a hand in Savannah's recovery
as he did. "I think she's just been an amazing mother," he says.
"She knew her child was ill. She wasn't satisfied with the answers she was
getting locally, and she sought help at Mayo Clinic. I think a lot of credit
for Savannah's recovery goes not as much to me as to her."
---
HELPFUL LINKS