Savoring the Many Flavors of Life After Overcoming Side Effects From Cancer Treatment
From: Mayo Clinic News Network
Need Caregiver Certification? Get that through the American Caregiver Association right here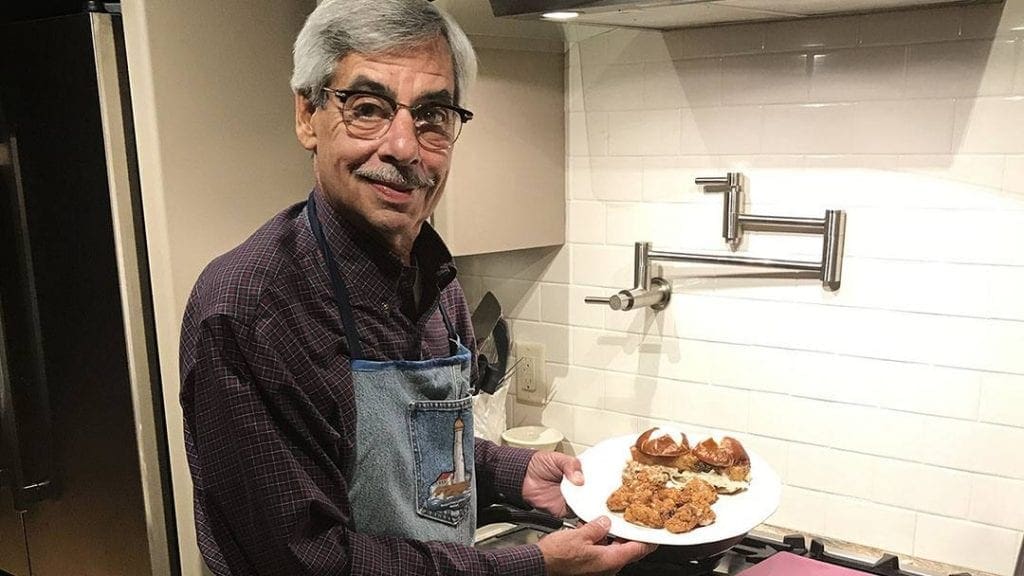 Side effects from oral cancer treatment left Mike Serpe in terrible pain and unable to eat or drink for months. But after coming to Mayo Clinic, where he began hyperbaric oxygen therapy followed by surgery, his throat healed, and he reclaimed his love of cooking and eating.
---
When Mike Serpe came to Mayo Clinic in December 2018, six months after undergoing chemotherapy and radiation therapy for oral cancer, he was in pain 24/7. He couldn't swallow and was getting the nutrients his body needed through a feeding tube.
"I started to have side
effects from the radiation in October. I had a very sore throat, and I was
coughing constantly," Mike says. "The coughing spells would take my
breath away, and I had to call 911 twice."
Mike's doctor in Green Bay, Wisconsin, a former Mayo Clinic resident physician, knew otolaryngologist Daniel Price, M.D., at Mayo's Head and Neck Cancer Center. The physician called Dr. Price to make arrangements for Mike to see him at Mayo Clinic in Rochester.
Analyzing the problem
When he met Mike, Dr. Price
explained that the radiation and chemotherapy Mike had received to cure a
cancerous tumor in his tongue had caused a condition called osteoradionecrosis.
"The condition occurs when
blood supply to the bone is damaged from those cancer treatments, and the bone
dies," Dr. Price says. "As it dies, it becomes infected and painful. The
tissue around the bone also gets infected, and it has to be removed."
"You could barely understand what (Mike) was saying, and he was quite distressed by the level of pain."

Daniel Price, M.D.
In Mike's case, the affected bone
was the hyoid — a free-floating, horseshoe-shaped bone at the root of the tongue in the front of the neck. The bone
injury and infection significantly affected Mike's ability to eat and swallow.
"He had very limited ability
to move his tongue and had damage to the muscles of his throat from the cancer,"
Dr. Price says. "You could barely understand what he was saying, and he was
quite distressed by the level of pain."
As they planned the next steps in Mike's care, Mike's Mayo Clinic team helped him navigate his distressing symptoms. "During December and January, I experienced the worst physical pain I've ever had," Mike says. "Thankfully, Dr. Price's staff was on top of how you do pain management. I was on six different pain medications, which put me in a state of stupor that I didn't like. They referred me to a Pain Medicine specialist who helped me wean off some of them."
Crafting a plan
Depending on the severity of the condition, treatment for osteoradionecrosis can include taking antibiotics and other medications to halt the infection. But Mike needed more than that. "He had very aggressive osteoradionecrosis, which we treat with hyperbaric oxygen therapy and surgery," Dr. Price says.
Hyperbaric oxygen therapy involves breathing pure oxygen in a
pressurized room or tube. It can be used to treat a variety of conditions,
including serious infections, and it helps promote healing.
The plan was for Mike to have 40
hyperbaric oxygen treatment sessions. Halfway through that series of
treatments, Dr. Price would perform a debridement — a robotic surgical
procedure during which he would remove Mike's hyoid bone, as well as some
residual nonviable tissue that was contributing to the ongoing infection.
Mike previously had hyperbaric
oxygen treatment in Green Bay. But because he had to be in a tube for that
treatment, he found it extremely claustrophobic and didn't continue the
treatment. Mike was able to get past that problem at Mayo Clinic, however,
because he could receive hyperbaric
oxygen therapy at Mayo in a larger open chamber. He also found a similar open-chamber
facility closer to his home in Wisconsin, so he split his sessions between the
two locations.
It was a useful way to manage the
treatments, says Dr. Price. "Hyperbaric oxygen is time-intensive. You're in
an oxygen chamber for an hour a day for 30 consecutive days, so it's not always
easy for people to do that far from home."
Relishing the results
As the hyperbaric oxygen therapy
moved forward, Mike began to notice a difference. "Until we started the
hyperbaric therapy, I was having a hard time breathing and felt horrible physically,"
Mike says. "As the hyperbaric treatments progressed, I was able to swallow
and eat solid foods."
The hyperbaric oxygen therapy
healed most of the damaged tissue. Then on March 6, Dr. Price performed surgery
to remove the remaining nonviable tissue, along with the bone and a tendon. After
being discharged two days later, Mike underwent ten more hyperbaric oxygen
treatments near his home.
Today, Mike has put cancer and the
side effects from its treatment behind him. "He's fully healed, and there's
no evidence of the osteoradionecrosis or any ongoing infection," Dr. Price
says.
"It's wonderful to be able to taste and enjoy all of these flavors and spices again."

Mike Serpe
That's improved Mike's quality of
life tremendously. Not only can he once again talk easily, without pain, he's
back to enjoying his time in the kitchen, savoring cooking and eating. "I
love to make chicken cacciatore, and spaghetti and meatballs. Whatever the
spirit moves me," Mike says. "It's wonderful to be able to taste and
enjoy all of these flavors and spices again."
For that, Mike is grateful to the
team who provided his care at Mayo Clinic. "It's a small group of doctors
throughout the country who treat this type of cancer and know each other, so I
was very fortunate to be referred to Dr. Price," Mike says. "I would
never go anywhere else for anything more serious than a hangnail. The care I
received at Mayo Clinic was wonderful."
---
HELPFUL
LINKS