Grateful for 'world-class' care to treat lung cancer during COVID-19 pandemic
From: Mayo Clinic News Network
Need Caregiver Certification? Get that through the American Caregiver Association right here
Sheila Piper was diagnosed with early-stage lung cancer in the midst of the COVID-19 pandemic. She was able to safely receive the medical care she needed at Mayo Clinic thanks to measures in place to protect patients and staff.
---
Sheila Piper considers herself blessed. She has a wonderful family that includes Ron, her husband of 33 years, two sons and a daughter-in-law. She's a 29-year employee of a hospital in Grand Forks, North Dakota, where she's a supervisor in the surgical department. When she's not at work, she enjoys spending time outdoors with her family and two dogs.
In March, Sheila's life was interrupted by an unprecedented and challenging situation. She was diagnosed with early-stage lung cancer in the midst of the COVID-19 pandemic.
It was a difficult diagnosis at a most difficult time. Despite the challenges, Sheila was able to safely receive the help and medical care she needed. And thanks to her dedicated Mayo Clinic team and timely lung cancer treatment, Sheila's outlook is very good.
Quick action to address concern
In 2015, Sheila was diagnosed with sarcoidosis, a disease where tiny collections of inflammatory cells (granulomas) can grow in any part of the body — most commonly the lungs and lymph nodes. In Sheila's case, the sarcoidosis attacked her lungs.
Sheila lost part of her right lung, which limited her overall lung capacity, and for the past three years, her local doctors closely watched a spot on her better-functioning left lung. That spot remained unchanged until recently, when she presented with new symptoms.
Her local physicians conducted a series of tests and recommended that Sheila follow up at Mayo Clinic in Rochester, where she previously received care for her sarcoidosis. Sheila was comfortable returning to Mayo, a place where she feels safe.
A biopsy of the questionable spot in mid-March at Mayo Clinic indicated that Sheila had lung cancer. Sheila was back at home in Grand Forks when she received the call from Aahd Kubbara, M.B.B.S. It was about the time that many states, including Minnesota, were announcing stay-at-home executive orders because of the COVID-19 pandemic.
Sheila recalls Dr. Kubbara's compassion and professionalism as he spoke with her about the diagnosis. He told her she could expect a call from Francis Nichols, M.D., chair of the Division of General Thoracic Surgery, to discuss next steps.
A plan to combat cancer during COVID-19
Within two hours of receiving her cancer diagnosis, Sheila received that call from Dr. Nichols, who reviewed the details of Sheila's early-stage lung cancer and informed her and her husband that it was slow-growing. Dr. Nichols outlined a plan for treatment that factored in appointment scheduling changes due to COVID-19.
Sheila was grateful for Dr. Nichols' quick and decisive action. "I had to do nothing," Sheila says. "He had a plan for my care within two hours, even in this crazy world."
That plan included Shanda Blackmon, M.D., a thoracic surgeon at Mayo Clinic, who would remove the tumor. Dr. Blackmon's goal was to follow the standard pre-COVID-19 protocol and perform the surgery within one month of the cancer diagnosis.
The fact that Mayo had already established telehealth capabilities and just ramped it up during COVID-19 allowed us to save a lot of patients from a delay in care.

Shanda Blackmon, M.D.
Dr. Blackmon carefully tracked Sheila's case, aware that if the tumor grew by two millimeters it could become a more advanced stage cancer. A virtual lung tumor board established by the Thoracic Surgery Division conducted daily virtual lung tumor board sessions, reviewing cases, setting priorities and making sure every patient was attended to.
Sheila's surgery was set for April 9, within one month of her diagnosis and during the time when Dr. Blackmon was allowed to operate only on patients with cancer, before nonessential and elective procedures resumed.
Video visits and constant communication
According to Dr. Blackmon, Mayo's ability to conduct video visits was critically important in Sheila's care plan. She and her colleagues coordinated with Sheila's primary team in Grand Forks through e-consults and evaluations.
"Sheila's care would have been delayed had we not had the capacity to see patients by video," says Dr. Blackmon. "The fact that Mayo had already established telehealth capabilities and just ramped it up during COVID-19 allowed us to save a lot of patients from a delay in care."
Leading up to the April surgery date, Kristyn Maixner, a nurse practitioner in Thoracic Surgery, played a big part in bolstering Sheila's confidence that it was safe to return to Rochester for face-to-face visits. Maixner was in regular communication with Sheila about her upcoming appointments.
Knowing what to expect in Rochester
Maixner explained that Sheila would have two COVID-19 tests administered by Mayo — five days before the scheduled surgery and again two days prior. She answered Sheila's questions, outlined how and where to get tested, and covered other details, including current visitor policies. Sheila understood that every patient was tested for COVID-19.
"Those calls were more than reassuring. Mayo was communicating above and beyond my expectations," Sheila says. "My husband and I were so impressed. We knew that Mayo had a plan."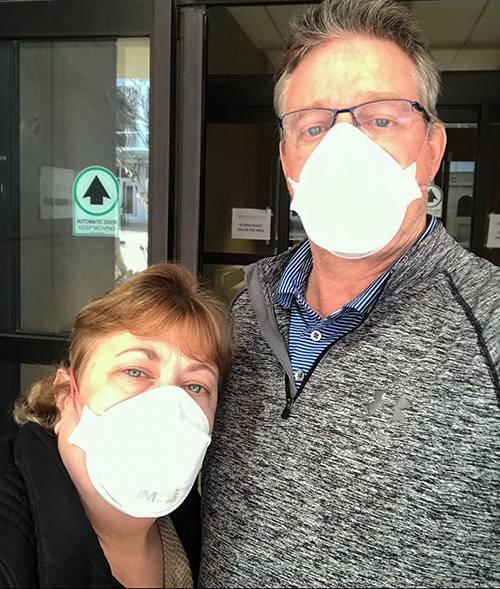 Sheila and Ron made two trips to Rochester in early April. They went home after Sheila's first negative COVID-19 test then returned to Mayo a few days later for the second required test and surgery. They say they felt well-informed prior to their arrival about measures that were in place due to COVID-19.
In the patient care setting, Sheila noticed added safety precautions, including repeated screenings over the phone and at building entrances, areas marked off in waiting rooms to comply with social distancing, hand washing measures, extra steps at patient check-in, and enhanced cleaning. Sheila also noted that Mayo staff's personal protective equipment was "spot on" every time.
"The preventive measures Mayo took meant that never once did we think, 'Are we safe?'" she says.
In addition to making sure patients are protected while at Mayo Clinic during COVID-19, Dr. Blackmon says patients should be assured that staff members are safe, too. "As a thoracic surgeon who cuts into lungs, I've never felt more protected," says Dr. Blackmon.
The Pipers were grateful that hotels, restaurants, grocery stores and other businesses near Mayo's campus in Rochester were open and had added safety measures in place, such as enhanced cleaning and face coverings for employees.
Shutting the door on COVID-19 and cancer
With two serology tests and repeated screenings for COVID-19, Sheila says that thanks to Mayo Clinic, she was able to "shut the door on COVID" and instead focus on beating cancer. Her advice to other patients is to do the same.
Dr. Blackmon also encourages patients to seek help and not delay care due to the pandemic. She says it's important for those who are at high risk for lung cancer to continue with regular screenings.
"The number of lives saved from lung cancer screening is tremendous, so we don't want patients to delay their annual screenings," she says.
Mayo was communicating above and beyond my expectations. My husband and I were so impressed. We knew that Mayo had a plan.

Sheila Piper
Today, Sheila says she feels great. The cancer was contained following removal of the tumor, her lymph nodes are cancer-free, and she doesn't need radiation or chemotherapy treatment.
Her voice catches as she shares the news that she's cancer-free.
In early May, Dr. Blackmon and Sheila reconnected during another video visit. "She's doing well and looks great," says Dr. Blackmon.
Sheila says the help she received at Mayo Clinic means the world to her and has freed her from her worries. Prior to surgery, she struggled to breathe and had back pain, but like the cancerous tumor, those symptoms are gone, too.
With Mayo's guidance and a plan, she says she's thankful she was able to receive "world-class" care at Mayo Clinic even in the midst of COVID-19. "It was the place to be," she says.
---
HELPFUL LINKS