10 years, 2 brothers, 2 transplants: the Wilson brothers' story
From: Mayo Clinic News Network
Need Caregiver Certification? Get that through the American Caregiver Association right here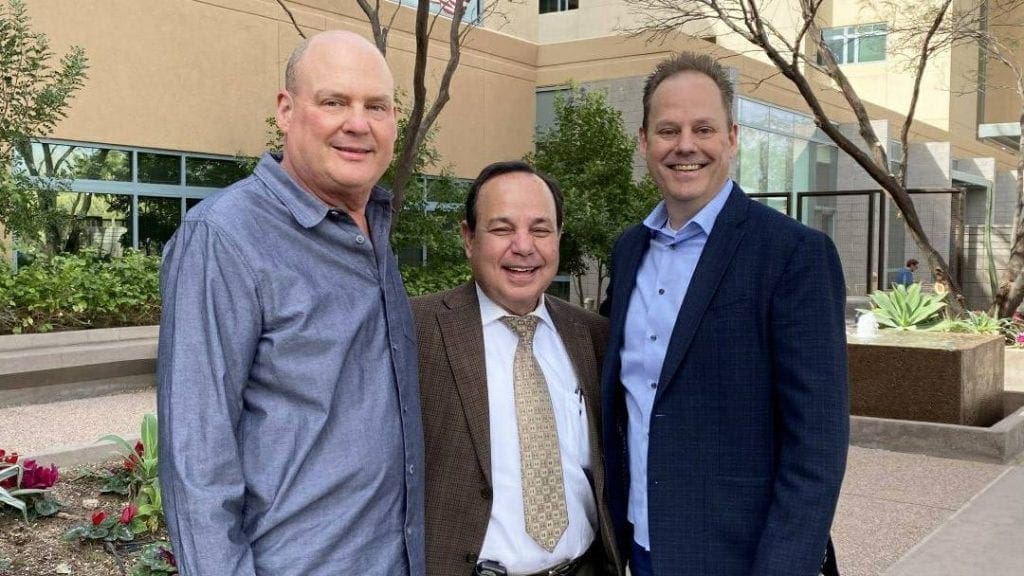 The Wilson brothers' connection goes deeper than the average siblings. They both were in serious need of a heart transplant. The brothers now have new hearts, a new perspective on life, and a new purpose.
---
On the surface, John and Mark Wilson are model brothers. Growing up, the two would playfully pick on each other and had their fair share of arguments. But no matter what, they had each other's back.
Even as they grew older and their lives took them in different directions, their bond stayed strong. But the Wilson brothers' connection goes deeper than the average siblings. At one point, they both were in serious need of a heart transplant after each developed a different disease that caused heart deterioration.
Although their health odysseys, which spanned a full decade, took them down different paths, two common ties brought them back together: their brotherly bond and Mayo Clinic in Arizona. Now, nearly six years since Mark's heart transplant and more than a year since John's, the Wilson brothers have new hearts, a new perspective on life, and a new purpose.
An unexpected diagnosis
John, who lives in Madison, Wisconsin, was 47 when his heart trouble began in 2009. He developed a sudden onset of nerve pain radiating in his legs and back that masked the fact he was also developing congestive heart failure. As his situation worsened, tests for a scheduled doctor's appointment revealed the seriousness of his condition and led to immediate hospital admission.
"I was in so much pain I almost skipped that appointment," John recalls. "I remember kneeling in front of the bathroom mirror to shave because I could barely stand, but somehow I forced myself to drive over there. Thank God I did, or I don't know if I'd be here today."
A portrait of health up to that point, John was diagnosed with Churg-Strauss syndrome (now known as EGPA), a condition that causes inflammation of the blood vessels, restricting blood flow to the organs and tissues. It can cause pain and numbness in the hands and feet, gastrointestinal bleeding and more, and it can damage organs.
"They were able to stabilize me, and eventually got the Churg-Strauss into remission, but my heart function was noticeably diminished, and my heart muscle was permanently damaged," he says.
John didn't let this slow him down. He continued to work, travel and even exercise, with modifications, for the next nine years.
As John was adjusting to his new limitations, Mark's journey was just beginning.
A rare coincidence: Mark's journey
Mark, who lives in Scottsdale, Arizona, also led an active, healthy life before 2010. He traveled often, raised two children with his wife, Pauli, golfed and hiked. So when he began feeling unwell, Mark concluded that he had an upper respiratory infection.
A chest X-ray would reveal instead that Mark had developed congestive heart failure, likely caused by a virus. Following the X-ray results and a brief stay in an ICU at another local hospital, Mark's physicians made plans to have him sent to Mayo Clinic in Arizona, where he was immediately implanted with a balloon pump and later, a defibrillator.
"I recall vividly when a Mayo physician said he was a transplant surgeon," Mark says. "In just four days, I went from having a 'cold,' to shaking hands with a doctor who was saying that I needed a heart transplant. It was overwhelming."
At the time, the Mayo transplant team was able to stabilize and release Mark, determining he was not in need of a heart transplant at that point, but they would continue to monitor him.
Unlike his brother, Mark would see his condition worsen at a rapid pace. In 2012, he developed heart arrhythmia, which causes the heart to beat too fast or too slow, because of failing and irregular electrical pulses.
Mark's arrhythmic episodes worsened. "In 2014, my heart went downhill," he says. "My son came home one morning to see an ambulance at the house. The defibrillator just couldn't do its job anymore." During the time of his decline, Mark says he "coded" two or three times, and was again admitted to Mayo Clinic Hospital.
Mark was implanted with a left ventricular assist device, which performs the function of the heart by maintaining blood flow. He credits this with saving his life. Despite the discomfort of the device, Mark understood it was doing an important job.
He immersed himself in Mayo's physical and recreational therapy programs.
"When you think about this, you have to go to the very core of your existence and find that place, and then go further to make it through," Mark says. "It has a lot to do with my positive outlook. I was determined, and I wasn't going to let this thing take me over."
Mark got the call that a new heart was waiting for him on Oct. 23, 2014, and he had his heart transplant surgery.
"It was like all your emotions were being put into a blender," Mark says. "It's all because one person and their family said yes to donation. That heart saved my life."
John's path to a new heart
Although seeing his brother receive his heart transplant was encouraging, John wasn't focused on the possibility of needing his own transplant. "At that point, I was five years into my new normal, so I thought that would go on forever," he says.
But John's new normal came to a halt three years after Mark's transplant, when he contracted meningitis. Complications from the illness put him out of work and highlighted his need for a heart transplant of his own.
"A few months after the meningitis diagnosis, when my weakened heart was still dragging me down, that's when we first started talking about a transplant." John says. "I'd been told once before that I would be a good candidate for a heart transplant, but it never seemed real to me until then."
John knew where to go to get answers. In May 2019, John and his wife, Vicki, flew to Mayo Clinic in Arizona, where he was evaluated and put on the transplant waiting list.
"Knowing Mark had been through transplant surgery and had a successful outcome, it took a lot of the fear away," John says. "We had a place to go to get answers."
After John's evaluation, the Mayo transplant team discharged him and told him to return in three months. But once back in Wisconsin, John began experiencing worsening symptoms that landed him right back in Arizona. His defibrillator started firing for the first time in over nine years, and he developed heart arrhythmias that further complicated his condition.
On Sept. 8, 2019, as he was having dinner with Mark and Pauli in Arizona, John received his life-transforming call: a heart was ready for him.
"John handled it well — he was smooth and cool," Mark says, recalling the drama of that day. "All went well, but we were right there. If there was anything he and Vicki needed, we were there."
Both John and Mark say they greatly admire their Mayo Clinic transplant surgeon, Louis Lanza, M.D., as well as Eric Steidley, M.D., and the entire transplant team that oversaw their care.
A new purpose
The past decade's events have changed these brothers forever, but John and Mark's bond has never been stronger. Since receiving their hearts, Mark has had the opportunity to meet the mother of his heart donor in a tearful reunion. John has written to Donor Network of Arizona, hoping to meet the family of his donor, and is waiting to hear back.
Both brothers have become involved in groups with other transplant recipients and are optimistic about the future. "We have met people who have had their heart transplant for 15 or 20 years," John says. "That's going to be us. We are both going to take care of ourselves and get a lot of good years from these amazing gifts."
Mark agrees. "I didn't choose to be in this club, but I'm going to embrace it," he says. "We go through denial and anger, but at the end of the day, my message is that the mental game is so critical."
---
Helpful Links